Envision Downtown Foley Vision Week is Over but the Plan is Just Beginning
---
Foley is working hard on preserving and improving their downtown for the future.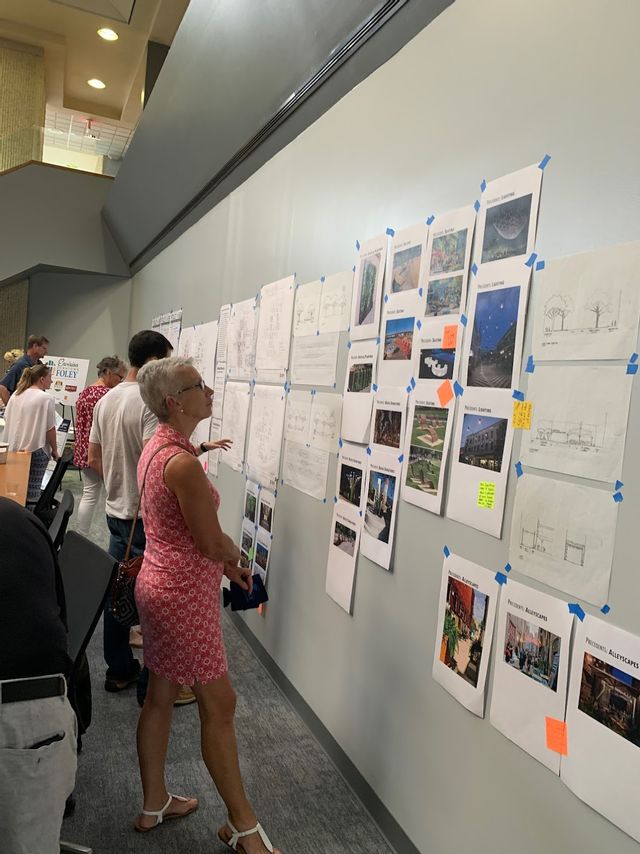 Foley Main Street wrapped up the Envision Downtown Foley Vision Week April 29. Vision week was made up of seventeen meetings gathering information about people's ideas and concerns about Downtown Foley. Over 350 people participated consisting of the public, property owners, business owners, city employees and elected officials. The Downtown Professionals Network team walked the downtown reviewing land use, ownership, green space, and downtown aesthetics adding to the information they had accumulated over the last two months. Mayor Ralph Hellmich commented: "I was impressed with the Envision Downtown Foley week results. There was tremendous public involvement and an overall sense of enthusiasm. I believe the ideas generated will make our Historic Downtown an even better place to be . . . enhanced to a higher level. Thank you, Foley Main Street!"

Results of a pre-vision week survey added another layer of information. The more than 900 responses to the survey were phenomenal, more than doubling Downtown Network Professional's goal of 400. The high participation rate set a high level of confidence in the survey results, estimating a 95% confidence level, give or take 5%.
Survey results went deep, with multiple layers of detail to choose from. The two top choices for downtown eating and drinking establishments were: Brewpub at 24.5%, Breakfast/Brunch at 21.4%, Full-Service and Family Fun came in third and fourth. The one common amenity picked for all four was outdoor seating and/or outdoor games. When it came to downtown retail, Specialty Foods was the heavy favorite with 42.8% the top features they picked from a menu of twelve choices were: locally sourced foods; sandwiches and salads; artisan foods; meats, cheeses & breads; and prepared foods. The next three choices were Vintage Markets 16.1%, Women's Clothing 14.5% and Kitchen/Home/Gifts 13.4%. There were other survey results that included Visual Preferences of the look for the downtown, Attributes and Priorities as well as a large section on Downtown Housing interests. A snapshot of the survey results and the detailed results can be found on the Foley Main Street website www.foleymainstreet.com under Library.
The next steps are just as important as the final plan is shaped. "I was really pleased at the Envision Plan process, and progress made, last week. Based on what was presented, I believe that the consultant team gleaned some terrific insights from our community participants, and the initial ideas they shared back with us seemed spot on. I look forward to the next version of the plan and how it can be used by all of our current and future downtown stakeholders." said Chad Watkins, President of Foley Main Street. Envision Downtown Foley sponsors are: City of Foley, Foley Main Street, Main Street Alabama, C-Spire, Thompson Engineering, South Baldwin Regional Medical Center, and 200 W. Laurel." The Downtown Professional Network team will be back in town at the end of June meeting with the steering committee to review the final plan, and talk about next steps which include planning strategies for the plan's roll-out. The Steering Committee was made up of: Chad Watkins WAS Design and President of Foley Main Street: Todd Koniar Vulcan, Inc. and Chair of the Foley Main Street Economic Vitality committee: Mayor Ralph Hellmich: City Councilman Charlie Ebert and Foley Main Street Board member: Mike Thompson City Administrator: Wayne Dyess Executive Director of Infrastructure and Development: Matt Fetner of Bryant Bank: Sylvia Foster Smith of Local & Co.: Drew Rambo of Realty Executives Gulf Coast and Board Director of Foley Main Street; Lindsay Schumacher of L. Schumacher Consulting; Brandon Nelson of South Baldwin Regional Medical Center; Janay Dawson of Baldwin County Board of Education and the Foley Historic Commission; and Darrelyn Dunmore Executive Director of Foley Main Street.
Downtowns are the heart and soul of a city. They bring character, warmth, and authenticity to a city. Without a vibrant downtown, a city is just Anywhere USA. Foley is working hard on preserving and improving their downtown for the future. For more information about the Envision Downtown Foley plan, or to learn more about Foley Main Street, please call Darrelyn Dunmore, Executive Director, at 251-270-0089.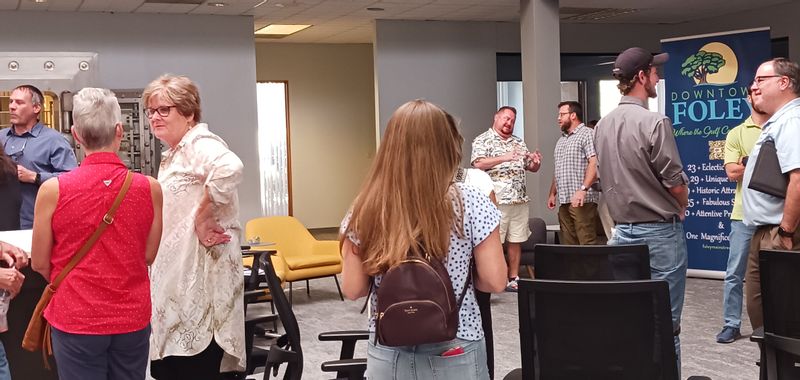 Click an image below to display the larger version.