CATalyst is Coming on April 28th - Art -Music
Watch public art come alive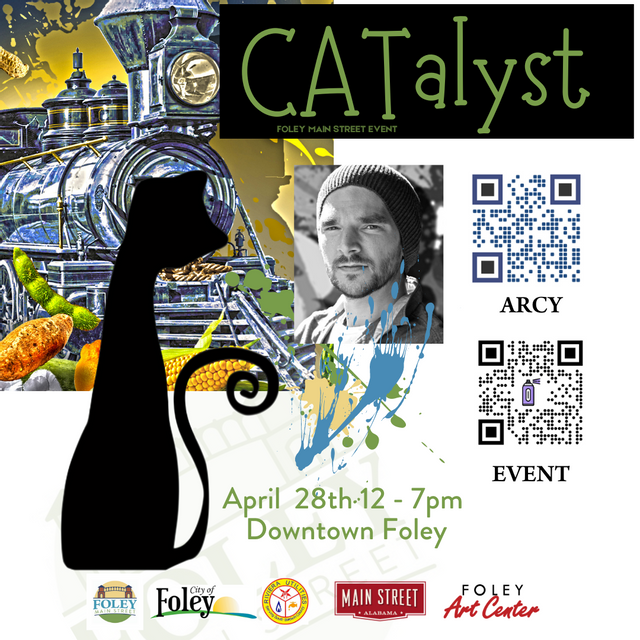 Description
Something unique is happening in Downtown Foley on April 28th. CATalyst is a kickoff event to introduce Cat Alley in Downtown Foley. ARCY, the internationally known artist, will be painting an 8' by 12' mural in 4-6 hours while we watch. It all happens in the Foley Art Center parking lot located at 211 N. McKenzie Street across from Heritage Park. The fun kicks off at noon. There will be music, food and beverages. It is free to watch - there is limited seating - so bring your chairs! Our music will begin at noon with DJ Tony Nelson sharing a mixture of music for all. Then Roman Street takes the stage from 3-6 pm.
A percentage of the proceeds will go to the Safe Harbor Animal Coalition. There will be food available on site, beverages, craft beer and wine and Cat Alley SWAG. There are also many restaurants in Downtown Foley most within walking distance.
The entries from our Elementary School Cat Alley Art Contest will be on display at the Foley Art Center during the CATalyst event. There will be first, second, and third place cash prize winners overall, and a best of class ribbon award for each class.
Cat Alley is a community effort to add public art in Downtown Foley, create gathering places, and promote connectivity. CATalyst and Cat Alley are Foley Main Street projects in conjunction with the City of Foley, Riviera Utilities, Foley Art Center, Main Street Alabama and our many CATalysts! You will have a chance to become a CATalyst sponsor at the event.Foley Main Street, along with its community foundation, is committed to working with existing businesses as well as new incoming businesses to keep them strong and growing. Also, to proactively tackle projects that will enhance the downtown experience. For more information about Foley Main Street visit 
www.foleymainstreet.com
Foley Art Center
211 North McKenzie Street, Foley, AL 36535
12:00 PM CDT
to 7:00 PM CDT
Private:No
RSVP Required:No
Accept Registration Online:No