Local artist leaves her mark in Foley
---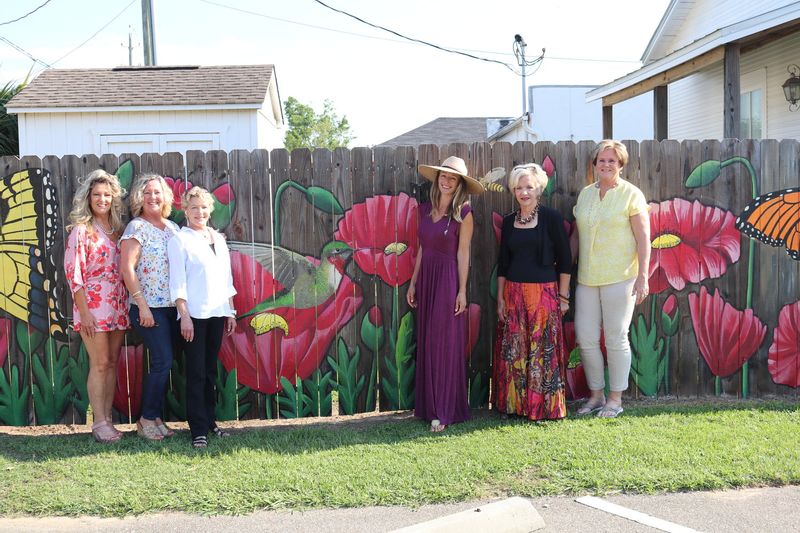 By Jessica Vaughn  Gulf Coast News Today 

FOLEY - Local artist Jessica Kinsey recently received the opportunity of a lifetime: to leave her mark in Foley through her gift of art. Kinsey was commissioned to paint a poppy mural on the fence that runs alongside the Foley Art Center, and she did so with pride.
"It's been an absolute honor and privilege to have this opportunity to share my God-given talents and to just put my mark on the city of Foley as I have, and to be able to share that with others and brighten their day," she said.
Not only did Kinsey put her mark on the city, but her children did as well. After painting the original poppy mural, Kinsey and her children added in small creatures such as caterpillars, hummingbirds, bees, and frogs. Some are in plain sight, while other critters are hiding amongst the green.
"My children are definitely the inspiration behind the little creatures and critters that we added in," Kinsey said.
Kinsey says the fence was treated prior to painting, and once completed the mural was sealed with a finish to protect it from fading and water-damage.
The process to get the mural approved ran through many different organizations. The Foley Revitalization and Beautification Board partnered with the Foley Art Center committee to have the fence painted, and the Foley Art Center paid for the labor costs. The Foley Historic Commission and the Foley council approved the mural, and all the paints and supplies for the project were provided to Kinsey.
The mural is located in downtown Foley and within Foley Main Street boundaries. Foley Main Street recently began a campaign to bring more street art and murals to the downtown area. The first such artwork in the Foley Main Street Public Art Initiative was the Foley Butterfly, painted by Victoria Cirilli. The Foley Butterfly is located in the alley between the Post Office and South McKenzie Street.
The initial poppy mural beside the Foley Art Center was completed to coincide with Art in the Park in May, with the finishing touches being completed afterward.
"The Beautification Board would like to thank Jessica Kinsey for sharing her beautiful talents with us," said Brenda Shambo, member of the Foley Revitalization and Beautification Board. "We'd like to thank her for such an amazing mural for the City of Foley. If you haven't seen it, then please go and look at it, it's absolutely beautiful."
The Foley Art Center is located at 211 North McKenzie Street.