Foley Main Street is lighting up Downtown Foley!
---
Downtown Foley's Christmas Open House December 3rd 11a -2p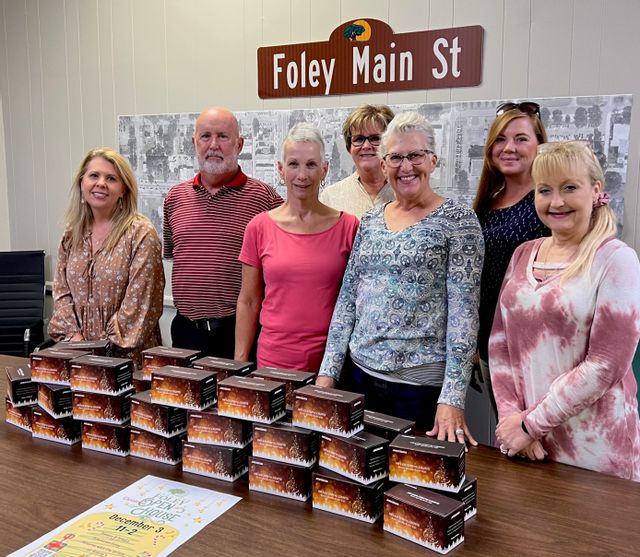 Foley Main Street is working on lighting up Downtown Foley.  The organization is giving each of the main street district businesses who want them - two 33' strands of warm white lights. Just in time for the holidays but the ultimate goal is to light up Downtown Foley year-round! Main Street's volunteers will be distributing lights the week of November 7th so that the businesses can have them up in time for Downtown Foley's Christmas Open House December 3rd  11a -2p immediately following the Foley Kiwanis Club's  Christmas Parade which will be at 10 o'clock. Look for the Grinch who will be hanging around downtown for pictures. This is in conjunction with the City of Foley's  Let It Snow in Heritage Park beginning at 11:00 a.m.  There will be snow flurries in the park, kids activities, live entertainment, a Christmas marketplace and Santa will be there as well.

Foley Main Street is also having their first annual window decorating contest where Downtown Foley businesses have the opportunity to win a $500.00 or $250.00 prize.  The entrants will be posted on Foley Main Street's Facebook page by December 3rd. Whichever decorated businesses receive the most likes/loves will win the prizes. People can look at the windows in person at the Open House on December 3rd.  Voting closes December 16th.  For more information send questions to [email protected] .
Caption: The Foley Main Street Promotions Committee L to R:  Lindsay Schumacher, Doug Catlett, Patti Catlett, Darrelyn Dunmore, Kristi Sanders, Chairman Lillian Taylor and Tracey St. John. preparing to hand out lights in Downtown Foley.