Foley Main Street Receives Three Awards of Excellence at the Main Street Alabama Annual Conference
---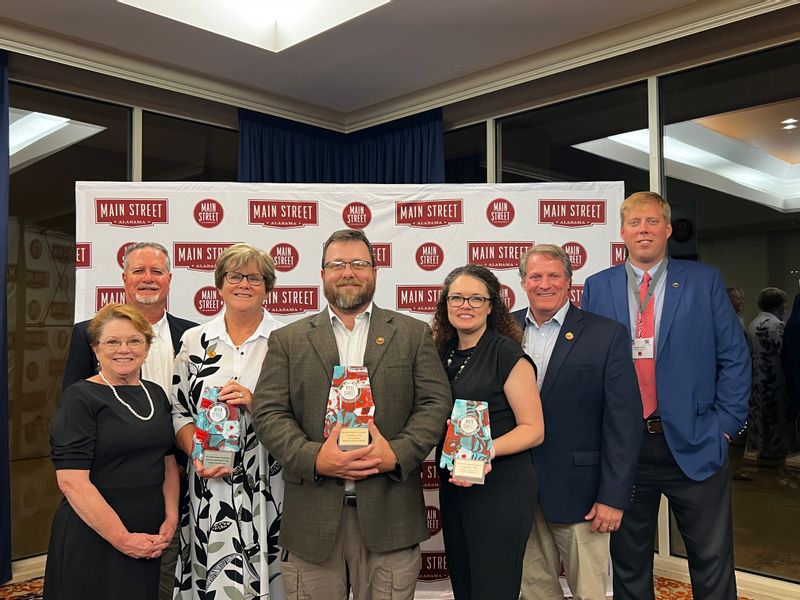 OPELIKA, Ala. - Main Street Alabama celebrated local program successes at the ninth annual Awards of Excellence Banquet August 18, at the Auburn Marriott Opelika Resort Hotel & Spa at Grand National in Opelika.
During the Awards of Excellence program, Main Street Alabama's President and State Coordinator, Mary Helmer Wirth, and Assistant State Coordinator, Trisha Black, honored projects and individuals that made tremendous impacts in their respective communities. Alabama Municipal Electric Authority sponsored the event.
Foley Main Street's district brought home three awards of excellence: Excellence in Business Development: Envision Downtown Foley, Todd Koniar Chair of Economic Vitality, Excellence in Fundraising: It's Our Birthday Campaign, The Main Street Board of Directors, and Excellence in Historic Preservation: Downtown Foley Historic self-guided walking tour, City of Foley Community Development Department and Foley Main Street.
The Excellence in Business Development award recognizes outstanding efforts to improve the district business climate, fill market gaps, create new markets, incentives, retention and recruitment efforts. Provides recognition for outstanding efforts by a local Main Street organization to support, strengthen, retain and attract businesses in the downtown area. The Foley Main Street Economic Vitality committee's quarterly stakeholder meetings always ended up with the same questions: Who do we want to attract, how are we going to attract them and what is our vision? Envision Downtown Foley forms a detailed downtown plan to compliment the city's comprehensive plan. Also needed was a new Market Study and a Consumer Business Survey. Foley Main Street decided to pursue all three at the same time. Main Street Alabama, the City of Foley, and four new corporate sponsors C-Spire, Thompson Engineering, South Baldwin Regional Medical Center, and 200 W. Laurel supported the scope of work.
The Downtown Foley Historic Tour secured an Excellence in Preservation Award. This award recognizes outstanding local efforts to preserve a local Main Street District history, preservation education efforts such as walking tours, historic designation, etc. In partnership with the City of Foley and the Alabama Historic Commission, a historic downtown walking tour booklet of eleven stops and a companion self-guided walking tour was created. The grant was submitted by the Community Development Department of the City of Foley. Foley Main Street helped research and gathered material for use in both the booklet and the virtual tour. The Foley Main Street Distrx (https://distrx.com/) app supports the self-guided walking historic tour in the geo-mapped area of Foley Main Street. Each stop activates a written description and history of the structure, shows numerous photos of the structure and an audio clip starts up.
Excellence in Fundraising recognizes a Main Street program for outstanding local fund-raising activity or campaign, displaying creativity and success in securing funds for the district program or specific project. Foley Main Street's first fundraising campaign, "Happy Third Birthday" won recognition with this award. Starting from scratch, the private investment goal was $29,500, the result was $42,250. The best result though, was the new partnerships that were formed throughout the process.
"The main street approach is all about partnering with people, businesses, the city and organizations to improve our downtown district. We are so proud and honored, as a young organization, to be recognized with these awards of excellence." Darrelyn Dunmore, Executive Director.
The full list of winners and descriptions can be found on the Newsroom page on Main Street Alabama's website, www.mainstreetalabama.org.
-more-
"Last week we celebrated the accomplishments of local Main Street programs," Wirth said. "These programs represent small rural cities as well as larger, more urban communities. The diversity of these communities makes each one unique, each working within their own capacity to improve, reinvigorate, and revitalize their downtown or neighborhood commercial districts. We were inspired by local success stories and by the businesses, organizations and individuals who are dedicated to making their communities the best they can be."
The Awards of Excellence Banquet is a highlight of LAB, a three-day conference that bolsters the efforts of communities participating in the nationally acclaimed Main Street program or those communities interested in district revitalization. The ninth annual event drew over 150 community leaders from Alabama.
Main Street Alabama has 32 Designated Programs and over 43 Network Communities. Alexander City, Anniston, Athens, Atmore, Birmingham's Historic 4th Ave Business District, Birmingham's Woodlawn District, Calera, Columbiana, Decatur, Demopolis, Dothan, Elba, Enterprise, Eufaula, Florence, Foley, Fort Payne, Gadsden, Headland, Heflin, Jasper, LaFayette, Leeds, Marion, Monroeville, Montevallo, Opelika, Oxford, Scottsboro, South Huntsville, Talladega, and Wetumpka each have Designated Programs and new communities are added annually. Application workshops are held in January for communities interested in becoming a Designated Program. Until then, communities interested in district revitalization can participate in Main Street Alabama's Network.
Main Street Alabama focuses on bringing jobs, dollars and people back to Alabama's historic communities. Economic development is at the heart of our efforts to revitalize downtowns and neighborhood commercial districts.
- More -
Foley Main Street, Inc., went through an in-depth application process to be accepted into the Main Street Alabama program. Main Street is a national program with a forty-year history of success working with downtown districts. Foley Main Street is an accredited Main Street program.
Foley Main Street is committed to increasing the economic vibrancy of Downtown Foley by working on recruitment, facilitation, and the aid to businesses and investors interested in the downtown. The primary focus is to increase awareness of the Downtown Foley district and its businesses, as well as, working with the existing businesses to increase their strength and vibrancy.
Since its inception in June 2018, Foley Main Street has recorded 33 net new businesses, $1,038,298 public dollars invested, $7,019,253 private dollars invested, and 2,896 volunteer hours invested.
Foley Main Street is committed to preserving the district's opulent history, facilitating growth through a sound economic development strategy, and further enriching Downtown Foley - creating a destination where residents and visitors want to work, shop, dine and live.
For more information about Foley Main Street visit www.foleymainstreet.com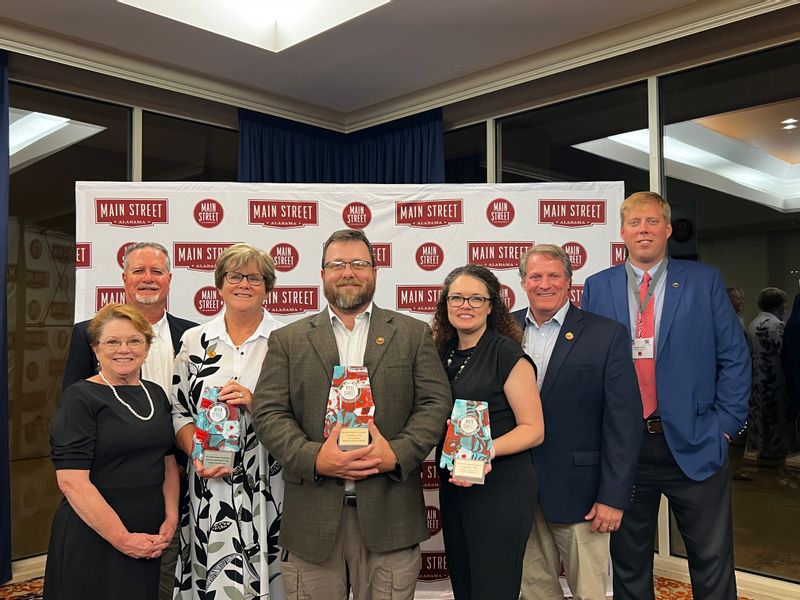 Click an image below to display the larger version.